David Bowie et ma Zik
Et bien voici le dernier single que j'écoute en boucle !
Serj Tankian est un musicien américano-néo-zélandais d'origine arménienne et ancien leader du groupe de métal System of a Down.
Lie Lie Lie est tiré de l'album Elect The Dead. Il a travaillé avec les Rita Mitsouko récemment, et la série « FEAR ITSELF »  a choisi cette chanson comme générique.

On trouve également une excellente version Live :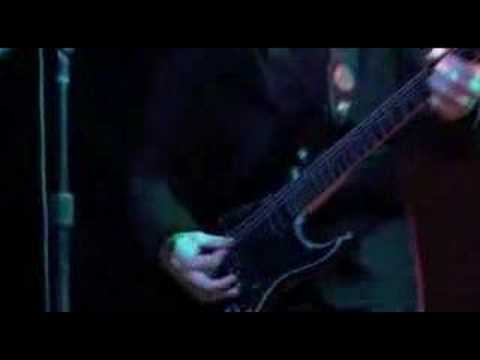 It seems quaint now to think that illicitly taped shows were once the record industry's greatest foe. These days bootlegs– particularly bootlegs like Bowie's October 1972 gig in Santa Monica, which enjoy a degree of fan reputation– aren't the enemy, they're a blessed revenue stream. Santa Monica '72 has had some level of official release before, but this version is repackaged and unlimited: An opportunity for casual fans to experience what is supposedly the best Bowie show on record.The obvious comparison for Santa Monica '72 is Ziggy Stardust: The Motion Picture: same tour, but a very different document. That album is David Bowie returning to Britain as a conquering hero (and stunning his fans with his apparent retirement)– this one finds him far from home and still feeling his way into stardom. The Ziggy look and concept– the jumpsuit, the shock of red hair, the sci-fi glam rock– had kicked doors open for Bowie in England, but its impact in the USA hadn't been quite so great. Santa Monica '72 is the sound of a cult act pushing hard for breakout success. Bowie had two big advantages in this push: An exceptional backing band in the Spiders from Mars, and four albums worth of very different material to draw on. The combination let him put on a show that could build and twist to keep its audience riveted. If you're familiar with Motion Picture, you'll know that its slow songs get rather lost in the general end-of-tour bombast, with Mike Garson's piano especially suffering. On Santa Monica '72, though, Garson sounds as intimate and effective as any Spider on a mid-set semi-acoustic section that forms the record's slow-burning highlight.


Before that the Spiders set their stall out with a brisk « Hang on to Yourself » and a snarling « Ziggy Stardust ». But « The Supermen »– Bowie's unearthly vision of future gods– is where this album really starts to smolder. The bridge into the show's quieter phase, it's stronger and stranger here than on The Man Who Sold the World, with Bowie's disturbing images and Mick Ronson's blurts of caveman guitar playing compellingly off each other. « The Supermen » conjures a sense of uncanny menace that carries the singer through intense takes on « Five Years » and « Life on Mars? », and ensures « Space Oddity » retains some power even when Bowie's doing the take-off noises himself. « Andy Warhol » is a standout, closing with a hushed, creepy solo, after which Bowie decides to tell an incomprehensible story about a lobster and a palm tree. The crowd and singer laugh nervously: It's endearing, given Bowie's reputation as a showman and manipulator, how gauche all his stage patter on this disc sounds.Bowie's in-song confidence and command, though, is impeccable. Art-rock credentials proven after a 10-minute « Width of a Circle », the show's second half is a thrilling space glam rave-up, the kind that sparked Bowie's early fame. Ronson is very much an equal partner, keeping « Queen Bitch » and « John, I'm Only Dancing » savage while Bowie brings out their catty catchiness. His guitar lines on « Moonage Daydream » prowl all over the song, rescuing it from some deeply unconvincing backing vocals.
Not everything Bowie tries on Santa Monica works– I've never liked his overwrought reading of Jacques Brel's « My Death » and even this relatively subdued take doesn't change my mind. And his take on the Velvet Underground's « Waiting for the Man »– one of the set's rarities– is too mannered. But the blistering closing tracks chase doubts from your mind. A fierce « Suffragette City » sounds more like the Turbonegro version than the Ziggy one, and the freshly-written « Jean Genie » is a revelation, sharp and wide-eyed pop rather than the rote glam exercise it became on record. After an hour's roaming through Bowie's early catalogue, he and the Spiders sound giddy with confidence, up for anything.
With bootlegs there's often a danger of confusing rarity with quality: whispered fan legends can wither when exposed to commercial sunlight. But as the man says, the beat it comes out better on a stolen guitar, and Santa Monica '72 earns its fan reputation. This is at once a snapshot of a hungry group on terrific form, and a fascinating look at an emergent star.
And for reality-shows fans, welcome in Canadian Idols !!!
____________________________________ 
This week the Mail on Sunday is giving away iSelect, a retrospective of David Bowie's favourite hits and rarities.
Not only did David Bowie invent glam rock, not only did he invent space-age rock, but in the past 40 years or so he's pretty much invented it all.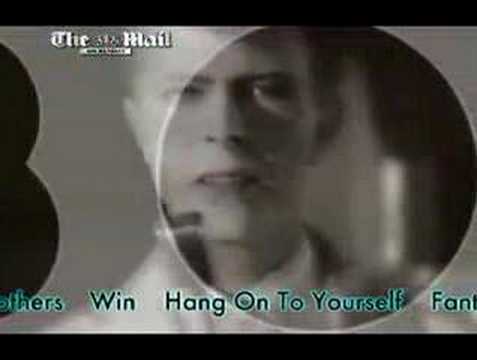 Life On Mars, that song is the opening track on his new compilation, iSelect, and you couldn't wish for a better introduction to the starburst-filtered world of David Bowie. This new compilation gives a fascinating overview of Bowie's career from 1971 to 1987, a decade and a half in which he reinvented himself every five minutes, producing so many iconic and emblematic rock 'n' roll blueprints that many are still being copied today. iSelect travels all the way from Life On Mars and The Bewlay Brothers (from 1971's Hunky Dory) to Loving The Alien (from 1984's Tonight) and a remixed Time Will Crawl (from 1987's Never Let Me Down), taking in everything from Aladdin Sane, Scary Monsters… and Lodger along the way.
And what a fascinating journey it is.
Along the road we get Lady Grinning Soul (the best song on 1973's iconoclastic Aladdin Sane),Sweet Thing/Candidate from 1974's Diamond Dogs (his rather kitsch approximation of George Orwell's 1984), Win from 1975's Young Americans, Some Are (an outtake from the Low period), Repetition and Fantastic Voyage from 1979's Lodger (the third part of the 'Berlin trilogy' that started with Low, swiftly followed by Heroes) and Teenage Wildlife, a melancholy call-to-arms from 1980's Scary Monsters (And Super Creeps) as well as a bonus track, a live rendition of the Ziggy Stardust classic, Hang On To Yourself, recorded in Santa Monica in 1972.
 « For this compilation I've selected 12 songs that I particularly like, » says Bowie.
There are many other gems on iSelect, including Loving The Alien, which is definitely the best song from the Tonight album, albeit with a lyric that explored Bowie's intense dislike of organised religion. Then there is Fantastic Voyage off the Lodger album and Lady Grinning Soul – which has to rank as one of the best Bowie ballads of all time – off Aladdin Sane.
Listening to these songs on iSelect made me feel exactly the same as I did that day. 'Take a look at the laaaawman…'
 Hear the 2008 Time Will Crawl Mix beneath…